Obama lifts suspension on military terror trials at Guantánamo Bay
Move marks departure from election promise to close camp and use civilian law to fight terrorism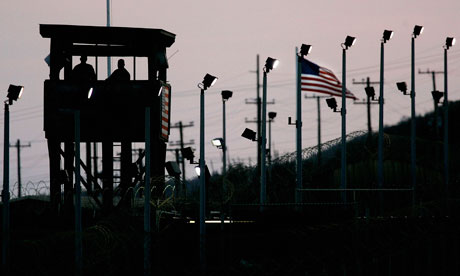 Obama also signed an executive order that moved to set into law the already existing practice on Guantánamo of holding detainees indefinitely without charge.

Critics see the resumption of the military trials as confirmation that Guantánamo will be closing no time soon. Under the executive orders allowing detention without charge, there is an in-built review process that allows cases to be reconsidered after the first year and then every four years thereafter.
CCR said that was in itself a tacit admission that Guantánamo would remain a place of extra-judicial detention.
Dixon said that the four-year reviews were also, in legal terms, strikingly similar to the so-called combatant status review tribunals set up by the Bush administration in 2005 and struck down by the supreme court as essentially unconstitutional in 2008.
"This is creating a bureaucratic morass that will achieve nothing legally but will ensure Guantánamo remains open," he said.
Some relatives of victims of the September 2001 attacks said that they were also disappointed by the resumption of military trials. Colleen Kelly, whose brother Bill Kelly Jr died in the Twin Towers on 9/11, said that she knew all too well how important it was to protect all people, not just Americans, from the threat of terrorism.
"There are some seriously dangerous people being held in Guantánamo Bay, I think the world understands that.
"But I think there's also a huge opportunity here being missed to show the world that not only does the US talk the talk, we walk the walk also." She said that the past nine years since 9/11 showed that the criminal system of justice had proven to be fully robust enough to deal with difficult terrorism cases. "There have been more than 170 successful anti-terror prosecutions in civilian courts since 9/11, which to me suggests they work."
Some 172 detainees remain in Guantánamo, of whom fewer than 40 have been earmarked for trial in either criminal courts or military commissions.
Before the military commissions were suspended by Obama, only a handful of cases were ever fully processed under them. Most of them involved guilty pleas, such as that of the Australian David Hicks who was returned to Australia after his conviction.
Salim Ahmed Hamdan, Osama bin Laden's driver, was convicted by military tribunal in 2008 and was returned later that year to Yemen to serve the remainder of his five-and-a-half-year sentence.


Guantánamo timeline
11 January 2002 First prisoners arrive at prison camp set up in the US naval base at Guantánamo Bay, Cuba. Dressed in US prison-issue orange jumpsuits, the detainees enter Camp Xray.
21 March 2002 New military tribunals for detainees are announced.
3 July 2003 President George Bush designates six suspected al-Qaida members as eligible for military tribunals, the first since the second world war.
7 July 2003 The Pentagon creates special military panels (Combatant Status Review Tribunals, or CSRTs) to determine "enemy combatant" status.
23 February 2004 Bush administration lays first charges against detainees. Ali Hamza al-Bahlul from Yemen and Ibrahim al-Qosi from Sudan are charged with conspiracy to commit war crimes.
29 March 2005 The CSRT process is completed. In all, 558 detainees complete the process, with 38 judged to be no longer enemy combatants and eligible for release.
15 February 2006 A UN report recommends closure of Guantánamo. Bush speaks in June of his desire to do so.
29 June 2006 The US supreme court rules the military commission system for Guantánamo violates US and international law, and that the Geneva conventions do apply to detainees.
16 November 2008 President-elect Barack Obama declares his intention to close the prison at Guantánamo.
22 January 2009 Obama orders closure of the prison in one year. New military commissions at the prisonare also suspended.
5 January 2010 After admitting in November 2009 that plans to close the prison by January of 2010 had been missed, Obama reaffirms plans to close the camp later in the year.
7 March 2011 In an apparent acknowledgment that the camp won't be shut down any time, Obama lifts a two-year freeze on new military trials there.